Advertising screens are highly demanded in all businesses nowadays. Comprehensive and indispensable technology solutions provide the easiest and the most effective way of advertising content delivery to target audience.
Features of informational screens
Professional informational screen is completely different level of content delivery to audience comparing to consumer TV with insterted USB flash drive. Professional solutions are much more efficient and effective: starting from 24/7 operation capability and up to centralized online multiscreen management and content distribution. Below you are welcomed to find more details about advantages of informational screens:
Screen sizes
There are various sizes of advertising screens from 10 up to 98 inches. This kind of flexibility in terms of sizes allows effective screen usage in any environment and in any complete project. For example small screen sized displays can be used for conference and meeting rooms. Large format displays could replace videowall solutions in some cases.
Single centralized control and distribution network
If you have more than 1 point of advertising (i.e. screen), the option of single centralized control and distribution network becomes almost a must feature. Let's imagine you are running cross country gas&fuel station business or restaurant chain business. With professional solution you are able to update and control content in real time on all connected screens (without restarting or turning off screens) remotely. It is possible even if screens are located in different countries. Besides you are able to separate screens by groups in order to distribute language-localized content. At any moment you are free to send different content to one or several screens without damaging the rest of broadcasting.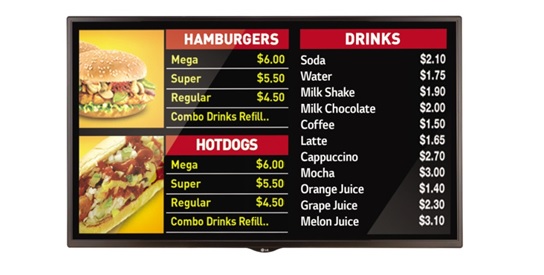 Creating scheduled operating
It doesn't matter how often you have to change content on the screens (several times a day, weekly or monthly) – it is always possible to create scheduling for content distribution for a certain period of time (up to several years). In this case advertising screens will show and change content according to your schedule. Moreover, you are free to setup power on / power off periods in order to save energy.
Content type
Advertising screens allow you to playback almost any type of content in different combinations and sequences: video and audio, images, presentations, pdf files, widgets, internet pages, text scroll bars, rss-feeds.
No additional hardware
Advertising screens do not need any additional hardware like media players or controllers in order to operate like it is described above. For offline operation you will need only electricity socket. In order to control sreens online you have to connect screens to network via LAN or wi-fi.
24/7 Operation
Professional Screens can operate 24/7 (not turning power off) within 3 years without any damages to matrix or display quality.
Landscape and Portrait Mode
Mount your video wall vertically or horizontally according to you requirements. Professional Screens can operate in any mode.
Life time of display
Typically professional screens have about 60,000 hours of life time (almost 7 years).
Temperature Sensor
This feature allows you to get information about video wall's condition remotely and make immidiate actions in case of emergency.
Contact us us in order to get more information or quotation for your project.