KSK Wayfinding is a solution providing fast and simple-to-use wayfinding experience to visitors and guests. It vividly shows route to specific office, meeting room, person, device or any POI based on your requirements. Visitor can also receive direction guidelines to personal mobile device seamlessly for future usage.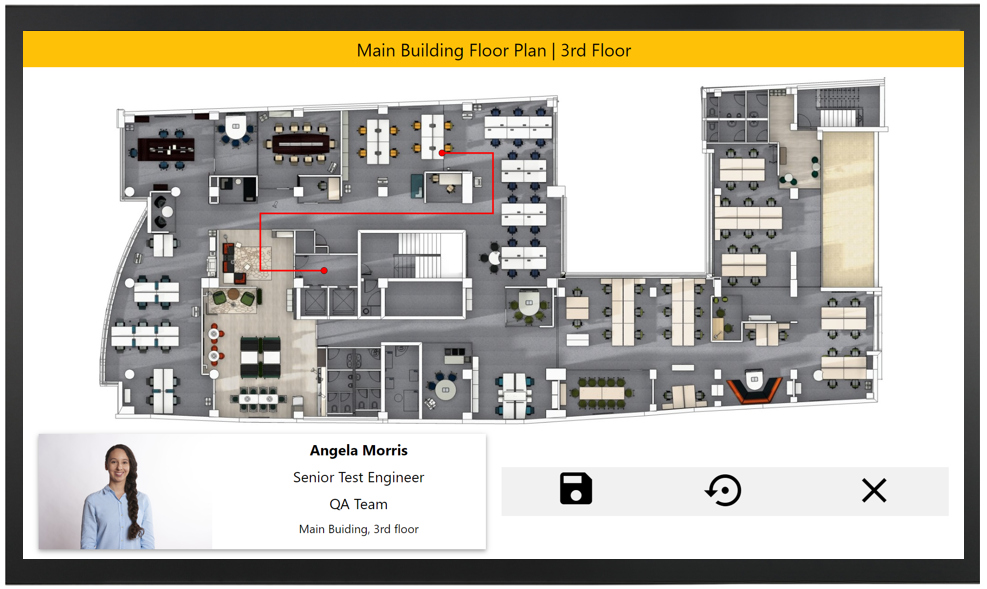 Full solution
We provide full solution including operational software, 2D or 3D floor drawings, informational screens with built-in touch displays and/or kiosks for visitors.
Compatible with any player (cross-platform solution)
With this solution you don't have to worry about compatible screens. Choose any vendor you like: LG, Samsung, Android devices or any other. Our solution is compatible with any screen.
100% unique templates
We will customize look and feel for you, if you need fully unique template. There is no minimal order quantity. Small customizations (logo, corporate colors, etc…) to existing templates are free of charge.
Add native language support for your valuable visitors
Our solution doesn't limit you to English interface only. You can add any interface language in order to show how much you care about your visitors and guests.
Where it can be used?
Solution can be implemented with no limitations to any environment in the following segments:
Corporate (large office spaces, branch offices, warehouses)
Retail (shopping malls)
Transportation (airports, train or bus stations, rental car services)
Education (schools, university campuses)
Healthcare (hospitals, SPA resorts)
Public venues (city navigation, bus shelters, cinema theatres)
Governmental (state institutions, agencies)
Contact us us in order to get more information or quotation for your project.