10″ or 22″ compact touch screens can be used in different environments – as special offer tags on the shelves in supermarkets, as notification boards near entrances to conference or meeting rooms, or simply as informational screens.
Features of small signage screens
Small sized screens are great when you are going to install additional informational screens in small spaces to deliver promotional messages.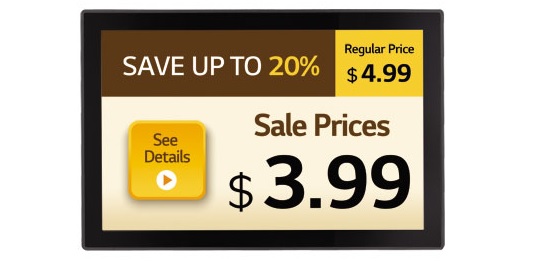 Power-over-ethernet (PoE)
10 inch screens allow you to connect to the power and network with only 1 single wire. This is simply great and useful feature if f it is too expensive or restricted to add additional power outlet in the place of installation. It will be totally enough with CAT5 cable.
SoftAP
Use small signage screens as wireless access points for mobile devices. This will extend your wireless network with no additional costs.
Connectivity support
Small signage screens support BEACON technology. This technology allows strores to provide discount coupons or some other information to user's mobile device in real-time.
Built-in Touch
Use all advantages of built-in technology to provide additional interactivity options to your customers.
Built-in Wi-FI
This option allows you to connect, control and manage your device and content with no additional wires.
Landscape and Portrait Mode
Mount your small signage screen vertically or horizontally according to you requirements. Professional Screens can operate in any mode.
Contact us us in order to get more information or quotation for your project.