Software solution for management of meeting rooms. Fully compatible with ANY screen: LG WebOS, Samsung SSSP, Android-based and others. Ideal solution for offices, exhibitions and any other place equipped with meeting rooms.
Advantages of Meeting Room Signage solution

Fully compatible with any player
With this solution you don't have to worry about compatible screens. Choose any vendor you like: LG, Samsung, Android devices or any other. Our solution is fully compatible with any screen.
Microsoft Exchange and Google Calendar support
Ideal solution for your business. Support shared calendars from Microsoft Exchange or Google.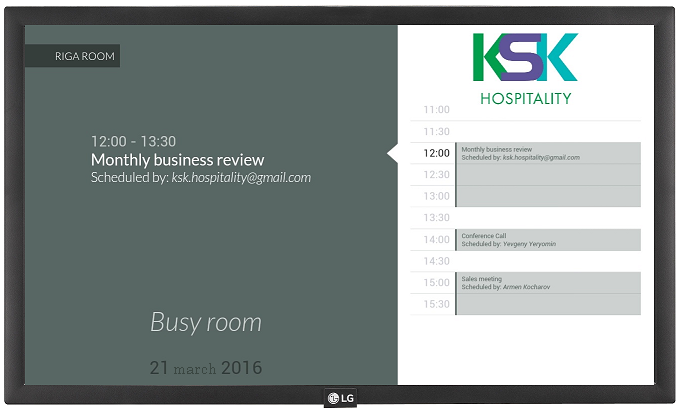 Customizable Templates
You can use pre-defined template or order separate template that will meet your specific requests and reflects your Company's individuality.
Summary Screen
Additional big format screen may display summary of all ongoing or scheduled events from all meeting rooms.
Easy management
Users don't have to learn how to use new system. They just have to add new event to the calendar. Our solution will distribute information to the summary screen and/or related meeting room's screen automatically.
Content and power management
Show informational or advertisement content on the same screens and set power management schedule in order to save energy.
Landscape or portrait modes
Install screens in horizontal or vertical orientation depending on environment needs.