New signage format is a piece of art in itself that can be seen as digital decor. 58:9 widescreen can display dynamic content depending on the user's installation environment (airports, subways, banks, art galleries, or retail stores).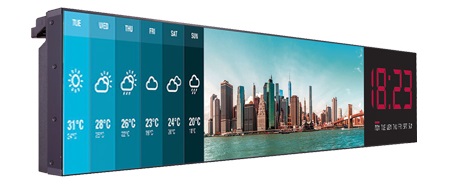 Features of stretched screens
Ultra HD Resolution 
Ultra HD (3840 x 600) large screens deliver an immersive viewing experience.
58:9 Extended Wide Format
Dynamic content is delivered on one screen since the new widescreen format is a 58:9 bar-type display.
Multiple Screens
The Picture-by-Picture (PBP) feature allows you to divide a screen into four parts in landscape or portrait installations.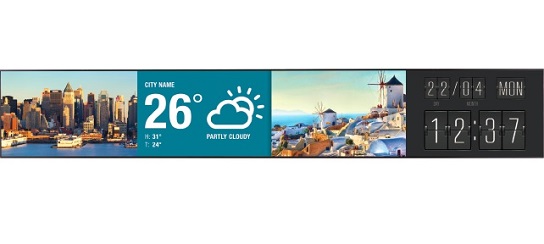 Landscape and Portrait Mode
Mount your screen vertically or horizontally according to you requirements. Professional Screens can operate in any mode.
24/7 Operation
Professional Screens can operate 24/7 (not turning power off) within 3 years without any damages to matrix or display quality.
Convinient connectivity
This product supports lateral tiling for 1×4 or 4×1 installations (landscape or portrait), and up to a 4×4 installation with a daisy chain configuration.
Contact us us in order to get more information or quotation for your project.