Video wall solutions are widely popular in all buiseness fields – control rooms, shopping malls, bars & restaurants, as marketing tools, etc. New technologies allow to create affordable solutions with superior quality.

Features of stretched screens
Super Narrow Bezel 
Panel Bezel is the black matrix section where an image is not displayed on the front panel. Up to 1.8mm Bezel-to-Bezel displays create visually stunning video wall that enables immersive and seamless viewing experiences on assembled video wall screens.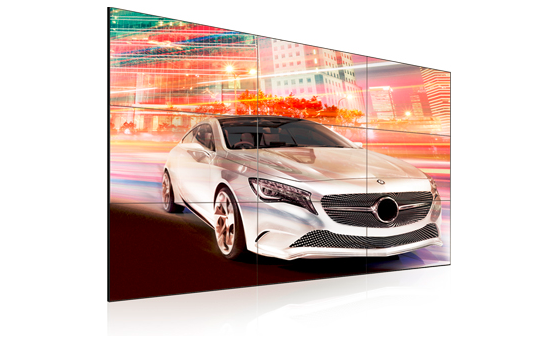 24/7 Operation
Professional Screens can operate 24/7 (not turning power off) within 3 years without any damages to matrix or display quality.
Landscape and Portrait Mode
Mount your video wall vertically or horizontally according to you requirements. Professional Screens can operate in any mode.
Various display zones 
Split your video wall into multi-zones showing simultaniously several different video streams, widgets, static pictures and whatever else you may need.
Temperature Sensor
This feature allows you to get information about video wall's condition remotely and make immidiate actions in case of emergency.
LAN Daisy Chain
New video walls allow you to execute commands to control and monitor the screens and even update their firmware all via LAN cable.
Life time of display
Typically professional screens have about 60,000 hours of life time (almost 7 years).
Contact us us in order to get more information or quotation for your project.