Enhance your meeting rooms with simple but powerful solution providing fast and simple-to-use room booking experience. It allows to make booking with minimum efforts and initial learning due to touch screen interface and integration with Google Calendar.


Instant booking or releasing with a single swipe
Make room bookings on the go with just one swipe. Calendar will automatically apply changes.

It is as easy to release room if your meeting has been finished earlier. Just make one swipe to the left and allow other colleagues to use this room for their needs. Efficiency of room management is highly increased.
Integration with Google Calendar
Seamless and fast room booking via the most popular calendar. It is equally easy to manage room bookings from PC/laptop, tablet or mobile phone. Add, delete or edit bookings wherever you are. Repeating events, scheduled bookings and a lot of other built-in functionality from Google is on your service.
Compatible with any player (cross-platform solution)
With this solution you don't have to worry about compatible screens. Choose any vendor you like: LG, Samsung, Android devices or any other. Our solution is compatible with any screen.
100% unique templates
We will customize look and feel for you, if you need fully unique template. There is no minimal order quantity. Small customizations (logo, corporate colors, etc…) to existing templates are free of charge.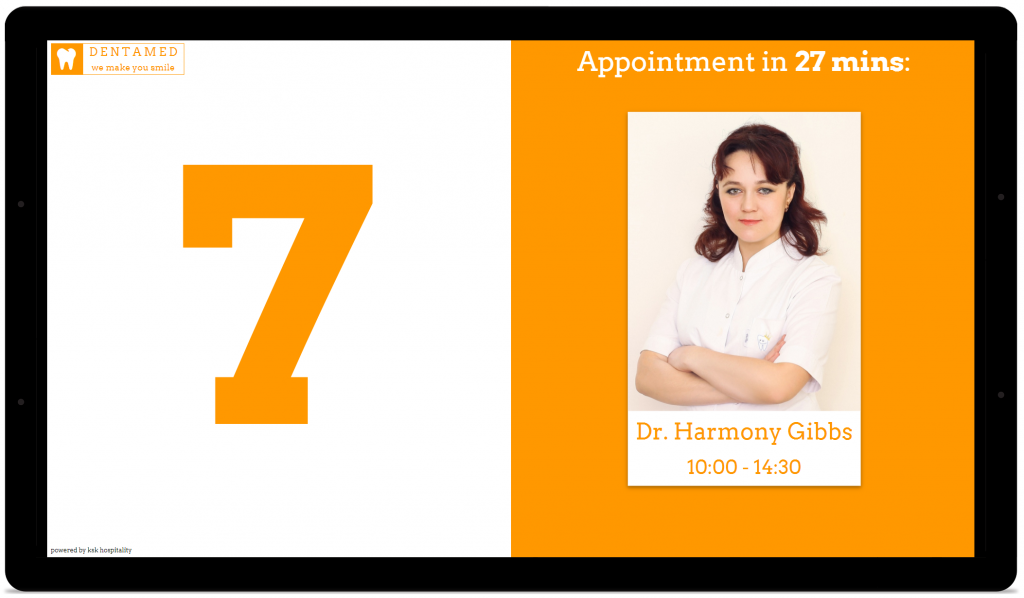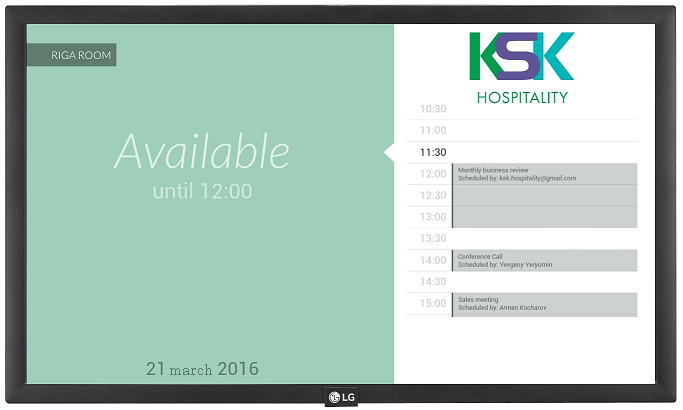 Add native language support for the most valuable visitors
Our solution doesn't limit you to English interface only. You can add any interface language in order to show how much you care about your guests.
Kiosk mode
Default feature in order to lock your device from any unauthorized access.
Where it can be used?
Anywhere a person may need information about room or venue status. Solution can be implemented with no limitations to any indoor and outdoor environment in the following segments:
Corporate (large office spaces, branch offices, warehouses)
Education (schools, university campuses)
Hospitality (conference rooms, etc…)
Healthcare (hospitals, clinics, SPA resorts)
Govermental (state institutions, agencies)
Contact us us in order to get more information or quotation for your project.