Information about current weather conditions and weather forecast. Adaptive background displays current weather conditions and delivers information to the viewer even from large distances (comparing to small icons).
Advantages of Weather Signage solution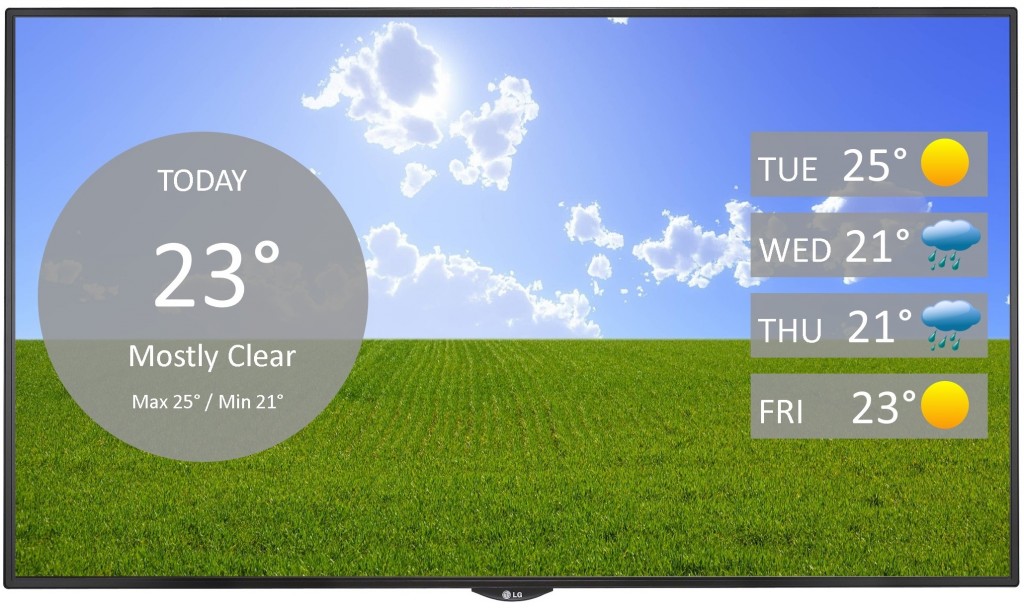 Fully compatible with any player
With this solution you don't have to worry about compatible screens. Choose any vendor you like: LG, Samsung, Android devices or any other. Our solution is fully compatible with any screen.
Opportunity to use your own weather station
There is an option to install your own weather station and get information about temperature, wind speed and direction, precipitation, relative air humidity and air pressure, twilight, and etc directly to your signage screen. Weather station is very compact (125 x 70 mm) and can be installed on the roof or facade area of any building.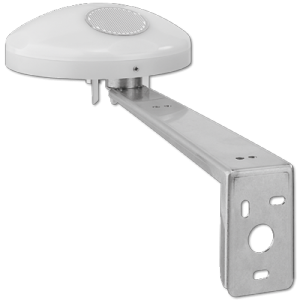 Adaptive background
Adaptive background displays current weather conditions. This kind of delivery of weather information is much more impressive and informative and doesn't require guest to come closer to the screen in order to see related pictogram.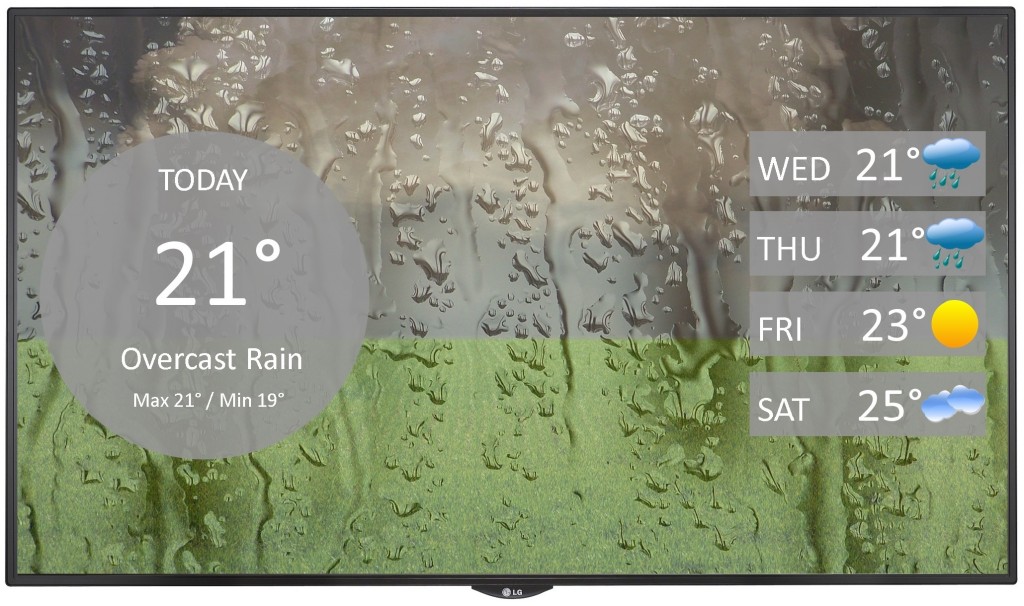 Information about weather from all over the World
You can order real-time weather information from any city in the world. Our solution will deliver it directly to your signage screen. Also you are free to choose several cities to display, this will not cost you any penny.
Advertising zones
Create additional channel for your sales and marketing departments. Put advertisings of third party companies in the loop on the same screen.
Information about flight schedule, actual news, etc.
Get maximum benefits from your digital signage screen. Add additional zones with information about flight schedule, news feeds, hotel brand images without no need of additional screen.
Landscape or portrait modes
Install screens in horizontal or vertical orientation depending on environment needs.
Add native language support for the most valuable visitors
Our solution doesn't limit you to English interface only. You can rotate any interface languages in order to show how much you care about your guests.
Contact us us in order to get more information or quotation for your project.